Last updated on January 11, 2020 at 13:08
Summary
Retroviruses have their genome in RNA instead of DNA
They replicate by using an enzyme called reverse transcriptase, which copies their RNA genome into the host cell's DNA

Telomerase is a similar enzyme, whose template is also RNA and its product is also DNA

Retroviruses are treated with reverse transcriptase inhibitors
The most famous retrovirus is HIV
Reverse transcriptase uses lysyl-tRNA as a primer
I'm not really sure what's important to know here
Most organisms keep their genome in DNA, but retroviruses keep theirs in RNA. In order for them to replicate, they contain an enzyme called reverse transcriptase, which copies their RNA into the DNA of the host cell the virus has infected. The host cell then begins to transcribe this virus DNA, which produces more viruses.
The most famous retrovirus is HIV. All retroviruses are treated with reverse transcriptase inhibitors, often more than one at the same time, to minimize the risk of the virus mutating and growing resistance to the inhibitors. HIV is treated with AZT and DDI.
Reverse transcriptase in HIV uses tRNALys as a primer for DNA synthesis, but many different tRNA molecules may be used.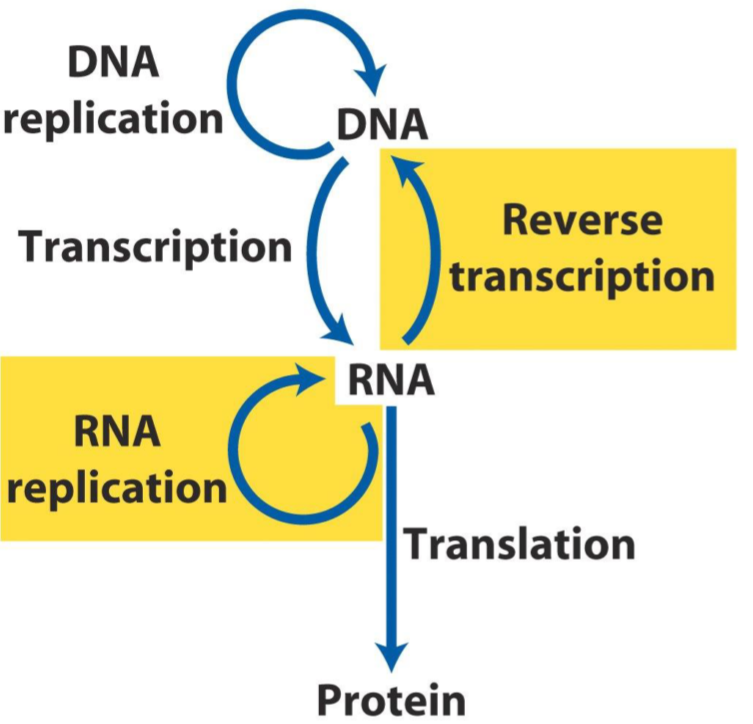 Previous page:
22. Short RNAs
Next page:
24. Protein synthesis 1. Participants and mechanism