Page created on November 3, 2022. Not updated since.
As a participant of the infamous "Bjørknes programme", which involves having the first year of POTE in Norway, after which one transfers to POTE for the second year onwards, I have no personal experience with many of the subjects of the first year at POTE.
Too long; didn't read
Here's the tl;dr:
Subjective downsides

The "old building" is old and has restrooms and lecture halls of very low quality, and the ventilation, air quality, and temperature regulation is poor
The "new building" is modern but is severely lacking in sorely needed study spaces
The university library has insufficient study spaces, small tables, and poor ventilation
The curriculum is extremely theoretical and detail-based, aiming to teach us countless details while failing to emphasise the important facts and teaching us the big pictures
There's no "block system" to allow you to focus on one subject at a time; instead, one has up to 13 subjects going parallelly, with classes in each subject almost every single week
All exams are consolidated into 7-week exam periods at the end of each semester. During this time one studies virtually the whole day every day for the entirety of the exam period. At worst, there are 12 – 13 exams to finish in the exam period
There are limited exam dates per subject and limited spots per exam date, and so failing an exam may force you to change your entire exam period plan or make it impossible for you to finish all your exams in the allotted time
Written exams are often written with really poor English
There are too many exams (approximately 100 throughout the studies!), they are unnecessarily difficult (one can fail after two questions on an oral exam!), and they're highly based on luck (which examiner you get, the mood they're in, and which topics you draw)
The curriculum focuses on teaching less clinically relevant subjects like anatomy, histology, embryology, biochemistry, and neuroanatomy to a painstakingly detailed degree, while skimping on more important subjects like physiology
With each group containing 20-24 students and only one teacher, each individual student can rarely learn anything of practical value during practical classes. Very little practical knowledge is learned during the entire studies.
The entire 6th year consists of practical rotations at different hospital departments. These can be done in some hospitals outside Hungary, but if these practices are undertaken in Pécs one mostly sits unengaged on a chair and listens to Hungarian for the entirety of the practice as no one bothers or has the time to teach you anything
There's virtually no problem-based learning (group work, cases, etc.), even though practicing medicine is largely about solving problems.
The theoretical classes are low quality. No knowledge sticks after almost all lectures and seminars because the presentations are packed chock-full of details and incomprehensible figures, while the important concepts aren't explained and emphasised. Most students skip as many classes as they can because they don't learn anything during them anyway
The class attendance system is very rigid and does not give additional allowed absences in case of unforeseen illness (even cancer!)
There are no lists of learning requirements, and so finding out what one must know for the exam becomes a bit of a guessing game
During the second half of the studies, one must document having acquired practical skills (with signature and stamp from a doctor) in a small booklet. The students hate this booklet because the university never teaches us these skills and it's a huge hassle for us to gather signatures, and the teachers hate it because they must sign dozens of lines per student booklet in their 24-student group

Objective downsides

The majority of students attending the university must repeat one or more years because the system and exams are made in such a way that repeating is inevitable for most students (in my graduating year 70% of graduates had repeated one year or more (I repeated one year myself))
Many students are expelled from the university because they can't pass their exams within the university-set limit of attempts
The tuition fee is higher than equivalent universities
The university ranks lower than equivalent universities in international rankings
There aren't enough study spaces at the university, and many of the present spaces are impractical due to not being in silent areas, due to lacking power outlets or comfortable seating. Many of the study spaces are located in rooms/aulas which are occasionally used for public events, in which case one can't study there
Some of the information taught is outdated or outright wrong
Lectures are only recorded in a few cases, and some lecture slides are not even uploaded
One does not encounter patients until third year (and then only 1,5 hours per week, most of the patient encounters occur in 4th year and beyond)
The aula of the old building, one of the biggest places to sit and study with its many tables and chairs, is often rented out for seminars or parties, making it unavailable for studying
There's no common agreement on what should be taught during seminars and practices, and so different groups may be taught different material, some having more relevant classes than others
Teachers and examiners sometimes disagree on facts, teach conflicting information, and punish you at exams for stating a fact you teacher taught you
The educational computer system (used for registering for subjects and exams) is buggy, crashes consistently at crucial times, and can't even add the number of subject credits correctly
I've personally spoken to many students (or graduates) at Pécs and medical universities in Poland and Slovakia, and virtually all students attending medical school in Pécs are dissatisfied (with many having strong feelings against the university), while most students from other countries are satisfied with their university.
You may disagree with my subjective problems with the University of Pécs Medical School, but even if you ignore the subjective downsides and only consider the objective ones of studying there, why would you choose it over similar universities who have fewer of these downsides, and whose students are more frequently satisfied with their university?
If you want the detailed write-up about the issues I have with the university, keep reading.
The facilities
The university campus and main building
The "campus" consists of a main building (nowadays often called the "old building") surrounded by some smaller buildings which house certain departments (like immunology and biochemistry), the main building of the university hospital (known officially as Jannus Pannonius Clinical Block, but informally as the "400 bed clinic" or simply "400 bed") on the north side and a small "park" on the south side with some trees and some benches, which is decorated widely with "smoking forbidden"-signs, adjacent to which there are many (apparently) illiterate smoking students and employees. The campus lies adjacent to a busy road, and there's a Lidl a few minutes' walk away. There's a bus stop right outside from which the bus travels to and from the city centre. The campus is a 20 – 25 minute walk west from the city centre.
Many university clinics are not close to campus, often necessitating driving or taking the bus there. This can be inconvenient in some cases where there isn't much time between classes.
The main building is quite plain and not very university-like. In my opinion, it's quite ugly. The restroom facilities are old and don't conform to modern standards, and most of the toilets have small shelves for your dumps to rest on until you flush, which allow the room to stink should you ever need to do number two at the university. The flushing mechanisms and the sinks are not infrequently out of order.
The four lecture rooms in this building have virtually no air conditioning (huge annoyance in the spring/summer), and hard wooden seats. The speaker system often dysfunctions.
A large part of the education still takes place in the "main"/"old" building.
In the middle of the building is the aula, which takes us to the next section.
The aula
There is a sizeable aula in the middle of the main building, with a second floor which overlooks the first floor. Tables and chairs line its walls and the second floor, providing places to study for students. However, the aula is often rented out for events like seminars and parties. The rumours say that this is because the aula is not owned by the medical university, but rather by the municipality/state/some arm of the government, which rents out the aula to generate income.
During these events, which can occur anytime during the semester or even in the exam period, the study spaces on the first floor (ground floor) are removed, students studying there are told to fuck off, and the study spaces on the second floor become unusable due to noise. Imagine studying at your university and being thrown out because there is going to be a community event.
Like the four lecture rooms, which connect to the second floor of the aula, the aula itself also does not have adequate air conditioning. This becomes a problem when studying in the late spring or summer, as it gets warm and the air becomes stale. It's also a problem during the graduation ceremony, which takes place in the warm days of early July. Take a quick look at the recording of the graduation ceremony of 2022 and note how many of the students are fanning themselves. In my opinion, it's a disgrace that a university we pay so much for and which takes itself so seriously can have graduation ceremonies in this barely ventilated space.
New university building
The university constructed a new building adjacent to the old one (on the North side, between the old main building and the 400 bed clinic) recently (I think it was finished spring/summer 2021). It's a much more modern building, and the restroom facilities are quite nice. The interior of the building has an interesting colour choice, to say the least.
In the basement of the new building is a cantina/café, Umami, which is fucking amazing. The food tastes great and they make a variety of dishes, including allergy/intolerance/religion-friendly ones, they have great service, and they have plenty of seating areas both inside and outside. Before the new building was constructed, the only food offers the university had were two really shitty cantinas in the old building, as well as a small cantina outside the main building which made absolutely no interesting or healthy food.
The lecture rooms of the new building have hard chairs, but they look nice and probably have ventilation, as opposed to the lecture rooms in the old building. Between the new building and the 400 bed clinic is a newly built park with a pond, which is quite nice.
Despite the students' pleads and wishes, the new building does not contain a new library or dedicated study rooms. Instead, they've only put some chairs and tables along the walls in the first (ground) floor and second floor. Not all of these tables are accompanied by enough power outlets. Oh, and the area which these study spaces are in is also sometimes used for events.
Places to sit and study, and the library
Many students prefer not to study at home. Studying at public places like the university or in libraries with other students, whether you're studying together or just sitting together, helps many of us study better. Also, often you have time between classes, and you'd like to spend that time studying. You'd expect a medical university which demands so much studying of us to supply enough places to sit and study at, but no, far from it.
The places to study at campus include a small library in the old building, the ground and first floor of the aula, a few scattered tables in the second, third, and fourth floors of the old building, and on the ground and first floors of the new building. This may sound like a lot, but it's not. At the times of the year when most students study the most, including the last weeks of the instructional period and the exam period, students must fight for places to sit, and many show up at 6:00 to get good spots.
The new building has good ventilation, keeping both air temperature and quality at a comfortable level. The old building, on the other hand, has poor air quality and poor ventilation, which is less than ideal to study in.
There's a public library at the other side of the city centre from the university, which, before and during the exam period, is almost completely occupied by medical students. Here too, one must usually stand in line in the early morning hours before opening to get a good spot.
The curriculum and education
The first two years of the studies comprise the "basic" module, with subjects like biophysics, molecular cell biology, biometrics, chemistry, biochemistry, anatomy, histology, embryology, and physiology. The third year is the "preclinical" module, with subjects like pathology, pathophysiology, and microbiology. The fourth and fifth years comprise the "clinical" module, with all the clinical subjects like pharmacology, cardiology, surgery, psychiatry, etc. The sixth year is the so-called "rotational year", with the whole year consisting of practices in the 8 major clinical subjects from the clinical module in the clinics.
One of the biggest problems with the university in my opinion, is the curriculum. What they've decided we should be taught in each subject, and how they teach us.
Pedantic and detail-based curriculum
The sciences of descriptive scientific studies (anatomy, histology, pathology) and the sciences of functional scientific studies of medicine (like biology, physiology, pathophysiology, immunology) have accumulated vast amounts of knowledge over the years since the inception of medicine. Now, we're at a point where we can describe many parts of the healthy and diseased human body in intricate detail. There will always be a certain level of detail which is necessary to know to practice medicine successfully, but more detailed knowledge does not equate to better practice.
The curriculum at POTE is extremely detail-based. So many details are taught and necessary to know for the exams that the big (important) picture and the essential connections are lost in a sea of unnecessary details. The university leadership seems to believe that more detailed curriculum leads to students understanding the subjects better, but the students can assure you that the opposite is true. On the other hand, it leaves us with a feeling of not grasping the essentials of each subject, even after exams, at which point we essentially forget all the details we had to memorise for the exams.
Especially the curriculum of the first two years contains ridiculous amounts of unnecessary knowledge. Now that we've graduated, we know exactly how little of the neuroanatomy, anatomy, histology, embryology, and biochemistry we learned that is actually useful to know (not to imply that those are the only subjects in which unnecessary knowledge is taught).
A better approach would be to make sure that everyone understands the most important parts of each subject and leave the detailed curriculum for each subject to those who decide to specialise in those subjects. This way, time is freed up for students to focus on the most important parts of each subject which every physician should know. A student graduated from POTE aspiring to be an orthopaedic surgeon won't remember the detailed bone anatomy from anatomy class in 1st year; they'll have to learn it properly when beginning their speciality anyway.
The world of practicing medicine is very different these days compared to just a few years ago. Now, a practicing physician can, with only a number of clicks of the computer mouse or taps on the smartphone screen, look up valuable, trustworthy, and up-to-date resources. Gone are the days where memorising details which are easy to look up on the Internet is important. Modern medical education should focus on problem solving and knowing how, where, and when to use available resources. The curriculum of POTE remains in the past, when everything had to memorised because nothing could be looked up.
Probably the biggest reason student-made notes widely used and successful is because these condense the material into a much more digestible and more easily study-able form. When students prefer studying exclusively from notes written by students in their free time compared to the material the university provides us, there's obviously an issue.
No block system
Many universities have "block-based" systems, where one subject is held in a continuous block and finished in its entirety before proceeding to the next subject. At POTE, this is not the case. At POTE, the curriculum is semester-based, meaning that in a given half-year (semester), you have a certain number of subjects simultaneously, and have the exams of these subjects in the exam period at the end of the semester. In the clinical module, we have up to 11-13 different subjects simultaneously, with classes in each subject every single week.
In my opinion, there's a reason more modern and progressive universities have switched to the block system, and that's because it's more efficient and makes more sense. It's much easier to focus on one subject at a time than 11 different subjects in a week. In the current system, there's often a week between the lectures in a given subject, and those lectures are separated by lectures, seminars, and practices in up to 10 other subjects. That doesn't exactly make it easy to remember and apply the knowledge from the lectures in the practices.
Problems with the basic module
As an example of the above, in all three exams we have in biochemistry, we have to memorise the structure of the reactants and products as well as the cofactors of 150 – 200 biochemical reactions. Before each of these three exams, ten chemical reactions will be given by name, and at least seven of these reactions must be drawn by hand from memory virtually perfectly to pass that part of the exam (there's a theoretical part as well, which is also very difficult). Here's the link to these reactions. MRT 4-10 2016 (1)
The anatomy, histology, embryology, and neuroanatomy subjects are all taught by the dreaded anatomy department®, which is the king of pedantic and intimate details, as well as difficult and unfair exams (we'll return to this on the section on exams). The curriculum of these subjects covers so much information which later proves to have absolutely no preclinical or clinical use. A surgeon requires in-depth knowledge of local anatomy, but so many details are packed into these curriculums that no medical student remembers any of the unimportant details even a few months after the exam (ask anyone on third year or above).
The last major subject in the basic module is physiology, the study of how the body works. This is, in my opinion, the most important subject in the basic module by far, and it should be the subject with most focus and most classes. Unfortunately, physiology necessarily is forced to take a backseat while students must focus on the subjects of anatomy department, as these are the subjects with the most numerous and difficult exams. Physiology exams are also difficult, and, making it fit perfectly in line with other basic module subjects, it focuses so much on details that students often miss out on the big picture and therefore the complete understanding of physiology. [[Link to terrible lectures in physiology]].
As a graduated student, it's simple to look back at what we were required to know for our basic module exams and evaluate what was actually useful to know for preclinical and clinical subjects. To no one's surprise, a majority of the details we learned were completely unnecessary and irrelevant.
Another major issue I have with the basic module is that we don't see patients during it. For the first two years of medical school, there are zero patient encounters. A profession in which physician-patient relationship is so important should begin education on this relationship early, not wait until the fourth year of medical school.
Problems with the preclinical module
The preclinical module is the best part of medical education at POTE, in my opinion. Like the rest of the curriculum, it's flawed, but it's less flawed. The pathology seminars and practices are very good, and the lectures are good most of the time. Pathophysiology teaches some of the most important material in medicine, but the curriculum is so vast and filled with unnecessary details that one easily misses out on the big picture. The book the department of pathophysiology has written misses the mark by a huge margin; many students cannot study from the book because the language is insensible, and it focuses mostly on details. Microbiology teaches us, in detail, about (what feels like) every human and non-human pathogen in existence, when one only faces a handful of them in practice.
During the preclinical module, the first student-patient encounters occur, in the form of a measly 1,5-hour class every week (internal medicine patients in the fall, surgery in the spring). Not until the third year of medical school are we taught history taking and physical examination.
Problems with the clinical module
The clinical module is also terribly frustrating. During these two years, you only have clinical subjects, and in theory, this is when we start getting actual clinical practice. Unfortunately, that doesn't actually happen.
Each practice class consists of 20-24 students and lasts for 90 minutes, and there's just one teacher per class. One teacher has no way of teaching each individual student anything in this short time, and they rarely bother trying. In most clinical module practical classes, teachers either just stand at the bedside and hold lectures/speeches and maybe ask one student to show an examination for the whole class, or the teacher just reverts the way of teaching back to seminars completely.
In only a few subjects, in my personal case only in internal medicine propaedeutics (actually a preclinical subject in third year), cardiology and dermatology practical classes, were we ever assigned to examine patients in smaller groups of 3 – 5 students per patient. This is obviously better, but there's still only one teacher who must manage and teach all these smaller groups.
Another major problem with the clinical module, which you may understand by now is a common theme for the entire university, is that the theoretical education during the lectures and seminar doesn't focus on the important topics of each subject, but instead tries to cram as many disorders and as much information as possible into the assigned time they have. In cardiology, for example, chronic heart failure, one of the most common chronic disorders in the world, is taught in only one 45-minute lecture. The lecture on cardiomyopathies, which are much less common, is also 45 minutes, as is the lecture on "Fungal diseases with cutaneous involvement" in dermatology, "Infanticide" in forensic medicine, and "Zoonoses" in infectiology.
Again, using cardiology as an example, one of the biggest clinical subjects in medicine and a subject which encompasses some of the most common and most researched disorders in the world, is covered in its entirety in 14 45-minute lectures and 14 90-minute practices. Ophthalmology, which is also obviously important, but whose disorders are much less commonly seen by the non-ophthalmologist, is also covered in the same number of lectures and practices.
Problems with the rotational year
The rotational year has different problems based on whether you choose to do your practices in Pécs or elsewhere. Rotational year consists of only "rotational practices", 8 hours every day Monday-Friday in 8 subjects, Family Medicine, Psychiatry, Internal Medicine, Surgery, Emergency Medicine, Paediatrics, and Obstetrics and Gynaecology.
These practices can be done in Pécs (in which case you need to pay extra tuition fee), or they can be taken abroad in hospitals on the university's accreditation list (many non-European countries aren't accredited on this list). Being able to have practices in your home country or the country where you'd like to practice medicine later is very valuable. Any number of the practices can be done abroad.
For those students who are unable to do their practices abroad and must do them in Pécs (due to not finding a hospital or department willing to accept them or due to their available hospitals not being on the accreditation list), this year is a bore. I had my paediatrics practice in Pécs because I couldn't find a department in Norway willing to have me. I had the practice with a fellow student who had to have all their rotational year practices in Pécs.
We would show up at 8 in the morning, at a different department of Paediatrics every week. From the beginning of the day, we were mostly ignored or brushed aside by the staff. The entire proceedings took place in Hungarian (understandably), but no one would translate for us international medical students. Many of the doctors did not speak English or were not willing to. They rarely cared or took their time to teach us anything, leading to us spending most of the time sitting or standing around and listening to a language we barely understood. We'd often leave early in the afternoon, as staying would just be a waste of time. Many students eventually don't bother showing up because they don't gain anything by doing so (they still get their practice accepted because nobody cares if you're even present). From talking to my fellow students who also had practices in Pécs, this was apparently the rule and not the exception for these rotational year practices.
There's something deeply annoying and wrong by having studies in which the first five years barely teach you anything practical with the premise of "all of 6th year will be practical, you'll learn practical skills then", only for the entirety of sixth year being literally sitting around and not learning anything.
No problem-based learning, virtually no problem-solving or case-based teaching
Working in medicine means that problem-solving will be a huge part of your workday. Based on the patient's symptoms, which tests and examinations should be made? What is this patient's most likely diagnosis based on the clinical features and the test results thus far? What tests should we proceed with to confirm the diagnosis? What is the best treatment? What are the alternative (differential) diagnoses? These are the questions one should be trained at answering. Many medical schools implement problem-based learning to train students in exactly this.
Lectures at POTE are exclusively presentation-based, and seminars are also almost exclusively so. The lecturer/seminar teacher holds a presentation, most often with a PowerPoint presentation, which they read off for the duration of the class, only rarely involving the students in any meaningful way. We're taught theory, not how to apply this theory. I can count on one or two hands the number of classes in which we've had cases to tackle, which is ridiculous considering that that's what our line of work entails most.
No common agreement on seminar and practice curricula
The lectures are held collectively for the whole year, but seminars and practices are held for groups of 24 students. In theory, in most subjects, the seminars and practices should follow a plan written by the course director, but in practice, this doesn't always happen. Group teachers sometimes deviate from the plan, or actually follow it but not teach the same material as the other group teachers.
This happens frequently. Often, some groups may cover more of the material which is asked on the exam than others. It has happened multiple times that I've been asked stuff on my exams that my class was never taught, but which other group teachers have taught their classes, or vice versa.
In my opinion, the material each group teacher teaches should be standardised across the whole department, to make sure everyone is taught the same material, and to make sure every class has covered the material required for the exam.
Teachers and examiners sometimes disagree on the facts and teach conflicting information
This thankfully doesn't happen often, but it shouldn't happen at all. This is mostly an issue in the anatomy department, where you'll sometimes hear you group teacher say "if you get examiner X on the exam, you have to say this on the exam, but if you get examiner Y, you have to say this other thing instead". Many have been punished at exams for saying something their teacher taught them but that the examiner disagreed with.
Outdated and sometimes outright wrong information
Sometimes, the curriculum is outdated or outright wrong, especially in the preclinical subjects. Personally, I noticed this the most in pathophysiology and pharmacology, but it happened in other subjects as well. Many of the drugs taught in pharmacology are never or only rarely used anymore, and some have even been removed from the market (this wouldn't be a huge problem if the classes also mentioned this and if they didn't spend much time on them), while on the flip side, many newer drugs are never covered in pharmacology.
The more you dabble in clinical subjects and the more you practice with physicians, the more you realise that the curriculum at POTE doesn't exactly strive to stay up to date.
Poor quality classes
With practices often devolving into bedside seminars, and regular seminars which are super dry and difficult to learn from, the classes are of so little use that they feel like a huge waste of time. This includes most lectures, most seminars, and most practices. I think I've had less than 20 classes during my studies which I've walked from and felt like I learned something from.
When we start a new subject and start having classes on a certain topic, we don't know anything about this topic yet. Yet, many lectures and seminars feel like a deep dive into a topic, rather than an introduction to it. Many a times have I walked out of our first lecture in a new topic, not having learning anything about it. Even now, I can open lectures we've had and just not understand anything of the material.
Many students choose to skip as many classes as possible as they find that their time is better spent on self-studying or personal activities. Most practices and seminars have attendance lists you have to sign for attendance, but many teachers don't bother to compare the number of students present with the number of names, so one often asks a fellow classmate to sign for them.
In theory, according to the rules, all classes, including lectures, are mandatory (I think), but only a few subjects enforce this rule. In most cases, no attendance sheet accompanies the lectures in a given subject, in which case very few students show up for them. In some cases, departments who are very stingy with attendance have threatened to fail students who didn't show up to a certain lecture, but these are always empty threats. Although, I've heard of cases where the lecturer takes a photo of the students present in the lecture hall, and if a student at the exam can't point to themselves on that photo, they automatically fail (how legal is this, anyway?).
We've actually had cases where literally zero students have showed up to certain lectures (in which case the lecturer became understandably upset for wasting their time, but it's honestly not our fault that we don't feel like we get our times' worth there).
Class attendance
As already mentioned, seminars and practices have attendance lists, and some lectures do too. Each subject has a certain number of classes which can be missed without reason. However, if you miss more than this limit, you are often automatically disallowed to sit for the exam in that subject, even if you manage to make up this class with another group. Being unable to sit for the exam means having to repeat the year in most cases, so this is obviously devastating.
This limit is rigid and does not take into account sick days or days missed for other important reasons. As an example of this, a fellow student was diagnosed with cancer during their studies and required more than the allowed number of absences to receive treatment for their disease. They were disallowed this and consequently had to repeat the year. Ironically, when another classmate was also diagnosed with cancer, they didn't disclose it to the university, instead leaving the country for treatment without telling their teachers and instead got classmates to sign attendance lists for them. They didn't have to repeat their year (and still passed their exams despite having technically missed enough classes to not be allowed to sit for the exam).
This became a huge problem after the COVID-19 pandemic started. When in person classes resumed, students would sometimes still get infected and be disallowed from attending the class. However, the leadership would not grant additional numbers of missed classes in these cases, and so students who were unlucky enough to get infected would have to decide between not telling anyone of their infectious status and attending classes anyway, risking infecting others, or exceed the allowed number of absences and risk having to repeat the whole year.
Lectures aren't recorded and sometimes not even uploaded
Lectures are not recorded and so cannot be reviewed at home. The lectures contain so much knowledge and go so quickly that it's impossible to write down everything that is said. The last years it appears that more subjects at least upload their PowerPoint slides, but that should be obligatory for all lectures and seminars, and the slides often don't contain all the necessary information and may even be completely useless on their own.
The exams
No proper learning requirements
Each subject has a "topic list", sometimes called "exam topics" or "exam questions", a number of headlines which outlines the topics you might be asked at the exam. This is supposed to serve as a guideline to what you must know before attempting the exam.
However, the topic list does not say anything about how much or exactly what is important within each topic. Examples of such topics may be "23. Risk factors, pathogenesis, epidemiology and types of hypertension" (from cardiology) or "14. A) Lethal diseases in ophthalmology" (from ophthalmology), but they say nothing about which risk factors of hypertension we must know, or to which detail we must know the pathogenesis or epidemiology, and it doesn't say anything about which lethal eye diseases we must know, and to which detail we must know them. As such, there are no proper learning requirements.
Your rebuttal may be, and this may be the opinion of the examiners as well, "just check the lecture where this topic was taught and learn what's on there". Let's check the lecture on hypertension in cardiology and see if we can get any wiser. Let's start with the epidemiology.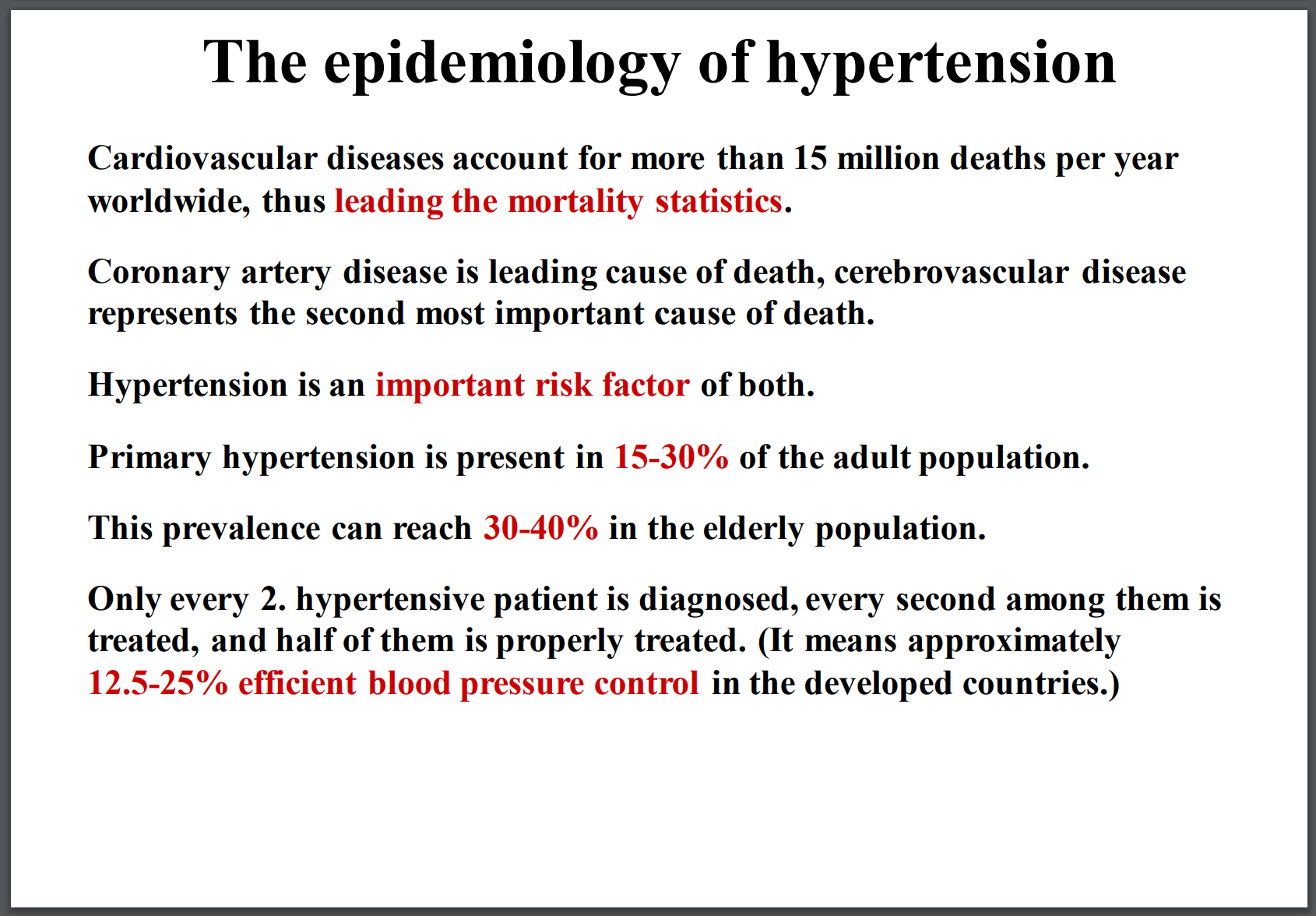 As you can see, the lecture does discuss the epidemiology a bit. But from this slide, what is necessary to memorise for the exam? Must we memorise the exact numbers? They're marked in red after all. The exam in cardiology is written, after all, so specific questions from the lectures can be asked, but we have no way of knowing exactly which facts are important to know. Also, half the slide discusses the epidemiology of the consequences of hypertension, and not hypertension itself. Next, let's see what the lecture has to say about the pathomechanism.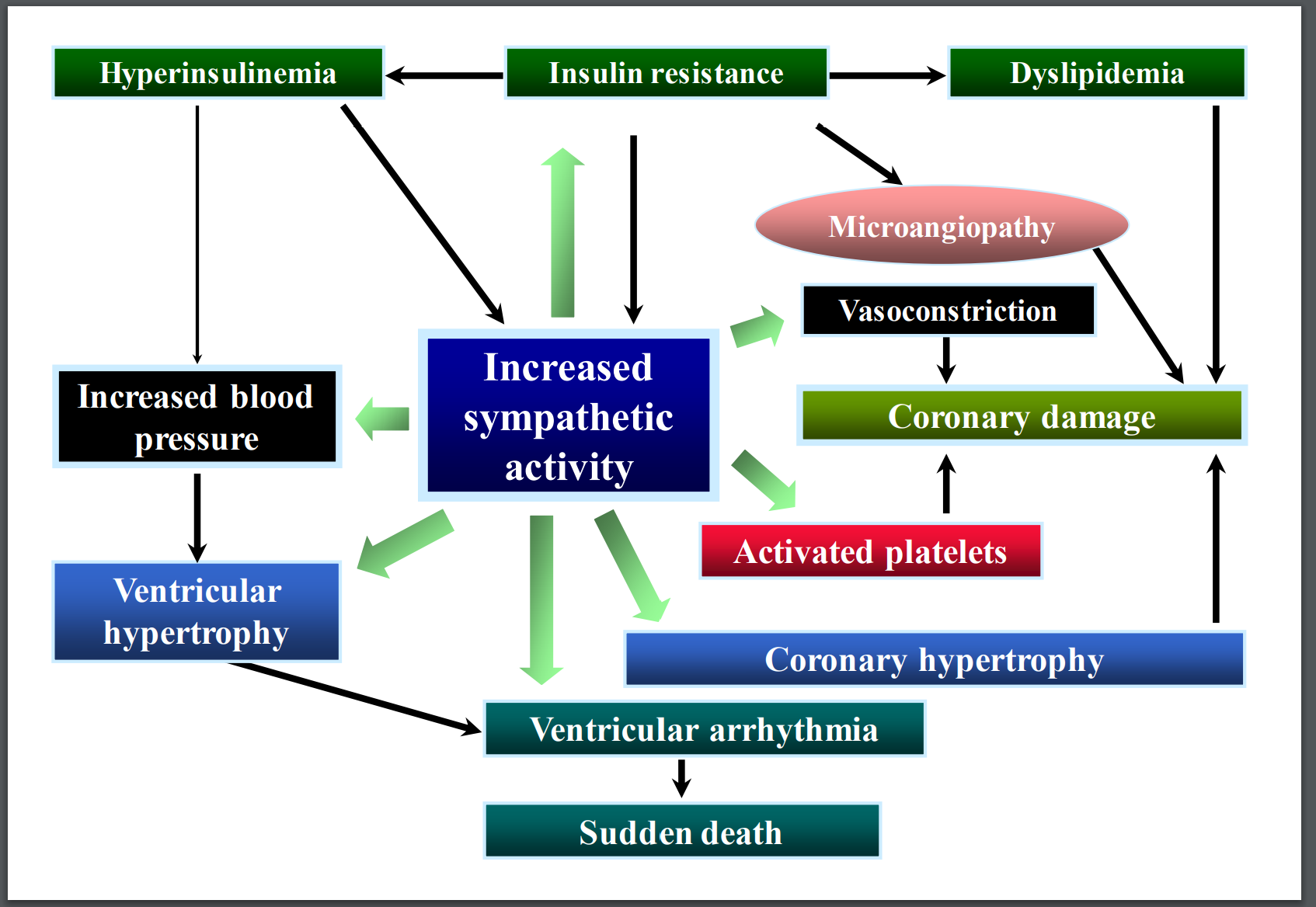 This is the only slide dedicated to the pathomechanism of hypertension. What is important here? Must be memorise the entire figure, or only parts of it? Is the general understanding of the pathomechanism most important, namely that it involves insulin, sympathetic overactivity, platelet overactivation, etc., or must we know the exact sequence?
Oh, and regarding the risk factors of hypertension? The lecture doesn't mention any at all. Also, none of the ophthalmology lectures cover the topic of "lethal eye disorders".
The above partly illustrates the problem. Classes aren't designed to cover the topic list completely, but the exams follow the topic lists rather than the classes. In many subjects, some topics or some parts of topics are never covered by classes, and the departments don't give any indication as to where to study these missing topics from (or if they do, they refer to thick medical books without any specific indication as to which parts of it are important).
Exams are consolidated into cramped exam periods
POTE has a semester-based system. Each semester consists of a 14-week long "instructional period", which is when classes take place and there are few/no exams. The week following the instructional period is the first week of the 7-week exam period, during which all the exams of the semester must be completed.
With this type of semester-based system all exams are consolidated into a 7-week period twice a year, as opposed to a block-based system, where exams could be spread out over the semester. With the current system, you have to study up to 11 subjects simultaneously for 14 weeks continuously. Could you retain what you've learned during this period for 14 weeks? Because I and most other students sure can't. Very few find it meaningful to start studying in the beginning of the instructional period, as the exams are still so far in the future that any material studied at that point would be forgotten by the time exams approach anyway.
The fall semester instructional period begins in September and continues into the first week of December, after which the exam period begins and lasts until February. The spring semester instructional period begins one week after the end of the fall semester exam period and continues into the first week of May, after which the exam period begins and lasts until July.
Because Christmas, New Years' Eve (as well as the Norwegian National Day on May 17th) coincide with the exam periods, many people find it difficult to find time to celebrate these events, and the ever-looming feeling of "you should be studying for your exam tomorrow/soon" often ruins an otherwise great celebration.
If you fail an exam attempt, you may attempt the same exam twice more in the same exam period. You might think that this must be more than enough to finish all your exams, but that's only true in theory. There are a limited number of spots for each exam for each exam date during the exam period, and when registration opens, the spots for the first few weeks fill in minutes.
Imagine registering for Anatomy 2 exam on the first day of exam period. You do your best, but you fail after being unable to answer the first two questions of the exam. You want to repeat it after a few days, but when you log on to the registration portal, you see that the exam spots for Anatomy 2 are full for the first two weeks of the exam period. You still have to pass Histology and Embryology 2, Biochemistry, Physiology 1, Basics of Human Genetics, and Public Health 3 in the remaining time of the exam period. You don't have time to wait two weeks without taking a single exam, because then you won't have time to finish all of them, and you can't retake the Anatomy 2 exam in the next two weeks, so you find an available exam spot in another subject like Physiology 1 the week after and start studying for that. If you pass, you've likely forgotten many of the details of Anatomy 2 you spent the weeks before the exam memorising and will therefore need days to re-prepare for Anatomy 2. If you fail, you're now one week into the exam period without having passed a single exam, and the spots for Physiology 1 exam are full for the coming week.
It may be difficult for an outsider to understand, but the 3-tries-for-each-exam-per-exam-period system is not enough simply because you're not guaranteed to be able to re-take the exam after a few days, and the exam period is of very limited time, and all your exams must be passed to be allowed to proceed to the next year.
Written exam questions are recycled and so we cannot properly review our own exams
Virtually all written exams at POTE are single choice, multiple choice, so-called "relationship analysis", or a mix of these. Because of laziness on the exam writers' parts, they don't bother making new questions for every exam. Instead, each subject has a large "question bank" from which a certain number of questions are randomly drawn and given on the exam. Occasionally, questions are added or removed from this bank, but the bank stays mostly constant over time. It's also not sufficiently large to prevent two written exams from having many of the same questions.
Because of this, many questions are repeated year after year. For this reason, it's disallowed to take the exam questions home after the exam or to get your corrected test paper back to see what mistakes you made and learn from them. You can only see the corrected test on one occasion a few days after the exam, during which you are monitored by teachers the entire time to prevent picture-taking of the questions, and you have very limited time.
Poor English in written exams
Poor English in written exams is a common problem. Sometimes the questions and choices are worded in such a way that there may be multiple correct answers while only one answer is correct. In one form of multiple choice question, the dreaded "relationship analysis", which is already difficult to comprehend, is often made near impossible by imprecise wording.
Exams are unnecessarily difficult
The examiners expect way too many details from the students. This is difficult to explain to a non-POTE student, but every POTE student have experienced it.
At POTE, one can study very hard and go through the best sources for an exam and still be asked about details they've never heard about.
At POTE, an oral exam can last less than a minute because an examiner can fail you after two or even one question.
Exams are unfair and based on luck
Oral exams are, as already mentioned, topic based. Before the exam starts, you'll draw a certain number of topics from the topic list, often 2 or 3, but sometimes more. Then, you'll be given an amount of time to prepare (in theory at least 30 minutes, but some subjects don't allow preparation time at all), after which you must present your topics.
Because the two or three topics you've drawn is a small part of the curriculum, the examiner must necessarily expect and ask details regarding your topics, otherwise the exam would only last a few minutes. However, this is problematic for two reasons. First, the level of detail they ask is often unnecessary to know as a non-specialist in the field. Second, students are only tested in a small part of the curriculum, making luck play a huge role. You may be lucky and get topics you specifically know extra well, or topics which are easier compared to others, or you may be unlucky and get a topic you didn't understand well enough, or one of the most difficult topics in the topic list.
Luck plays a huge role in another factor as well; the examiner you get. Which examiner you get on your exam is random and not known until the day of the exam. There is large variability in the way different examiners treats students, the level of detail the examiner expects from the student, and how many mistakes the examiner can let slide before failing you. In some cases, an examiner which is nice one day can be the opposite the next day. Examiners allow their mood to affect the student's exam to an unfortunately large degree. Also, some examiners are known to be nicer to certain nationalities and genders.
Written exams are better in the way that all students having the exam on the same day will get the same questions, but they're still unfair to some extent because the previous or next time that exam is arranged the questions will be different, and may be much easier or much harder.
Oral exams are not standardised
The level of knowledge necessary to pass or achieve a certain grade for oral exams is not standardised and therefore differs between examiners. One examiner may find a certain question to be so important that a student must necessarily fail if they fail to answer satisfactorily, while another would not care if the student failed to answer the same question.
Lack of realistic ways to complain about exam results
There's no system in place to complain about an exam result. All of us have been unfairly treated at an exam at some point, but there's no usable system in place to submit complaints. The "proper" way of doing so is to contact the course director, but due to the culture of dismissal and unhelpfulness, students even bother attempting it.
Ridiculous number of exams
During the course of our studies, we have 90+ exams. This is partly due to subjects which are too large to be covered over a single semester are spread over multiple semesters, but one must have an exam in these subjects each semester they're featured in. As examples, we have 3 (oral) exams in anatomy, 3 (oral) exams in histology, 6 exams in public health, 3 exams in biochemistry, 3 exams in paediatrics, 3 exams in ob/gyn, and so on. These subjects have "semester exams" in the exam period after each semester they're in, which cover the curriculum of that specific semester, as well as "final exams" which cover all the curriculums of all the semesters the subject has spanned across. There's no need to have both semester exams and final exams which cover the same material.
There's no need for this many exams. Many other universities, including in Eastern Europe, have way fewer exams. Medical universities in Norway have 1-4 exams per year.
Practical issues
Terrible education system (Neptun)
The web system the university uses is Hungarian-developed and is called Neptun. It's a piece of shit. It's riddled with poor translations, but that's the smallest problem with it.
Every time registration for subject groups or exams opens, the former of which occurs before each semester and the latter of which occurs before each exam period, everyone wants to log in at the same time. This is because the system works on a first-come-first-served basis, and everyone obviously want to get the groups and exam spots which are best for themselves. Every single time, every single year for many years, the system breaks down completely because it can't handle the load of all students logging on simultaneously. Those who are lucky enough to get logged in first get their preferred spots, and those who are unlucky may be stuck in deep shit.
Students' groups exist on a per-subject basis, meaning that, for no good reason at all, you can sign up to different groups in different subjects. This might seem like it provides freedom, but instead it only causes problems. The timetable is constructed in a way so that the only way for classes not to clash, you must necessarily be in the same group in (virtually) all subjects (if you're group A1 in all subjects but one, your classes in that one subject will necessarily occurs simultaneously as one of your other classes in your group A1 subjects in nearly all cases). Here's the webpage where you'll find the timetables.
Let's say you've been in group A3 for your first four years at POTE so far. You want to sign up for group A3 in all subjects for the upcoming semester as well. There are ~11 subjects in fifth year, so 11 subjects you must manually register yourself in your group. You manage to sign up for A3 in 10 of your subjects, but when you try to register for the last subject, paediatrics, you see that group A3 in paediatrics is already full, and there's no way for you to sign up for it. (This can happen because of a poor student who was in A3 but failed paediatrics, and so now must repeat the year just to take that subject. As such, there are 25 students who "belong" to group A3 and therefore want to sign up for the 24-student group). You see that you can't sign up for any other group in paediatrics, because the other groups' paediatrics classes clash with your other subjects.
You beg the course director of paediatrics to allow 25 students in group A3 so you can sign up, but this is almost never granted. Your only solution is to change groups in all subjects and try to find a combination which does not form clashing classes. It should be noted that this usually works out, so the student doesn't have to repeat the year because of it, but it always involves a huge load of paperwork and talking to the registrar's office and the course directors (which often refer you to the other to fix the problem because they don't think it's their responsibility).
Because we must manually sign up for all subjects every semester, and because there are so many subjects per semester, and because the Neptun system spreads obligatory subjects across different pages which many don't know about, it's not unusual to miss out on registering for obligatory subjects until after the deadline (this usually happens in the first two years, as students never make this mistake twice). You can request signing up for subjects after the deadline, but this is not always granted but definitely always grants stress and anxiety while waiting for the request to be processed. It also costs money.
During our studies, we must complete a certain number of elective and optional subjects to reach 34 subject credits in the former and 18 in the latter. Summarising the number of credits per subject to tell you have many elective and optional credits you have so far should be an easy task for a computer system, but Neptun doesn't do it correctly; it may underreport or overreport the number. To know the true number, one must count them manually, which is ridiculous.
No holidays, and practices during the summer break
There are very few holidays during the school year. There's no Easter holiday (only 1-2 days off). Christmas and New Year's Eve take place in the winter exam period, during which you often don't have time or energy to celebrate properly, and many can't travel home to celebrate with their families in this time because of exams.
The fall semester begins with the instructional period (with classes) in the end of August/beginning of September, and lasts until the beginning of December, after which the exam period immediately begins. It lasts until the end of January. Following the winter exam period, there is only one week of break before the spring semester begins with the instructional period in the end of January/beginning of February. It lasts until the beginning of May, after which the exam period immediately begins, and lasts until end of June/beginning of July. Then there's a summer break until the fall semester starts again.
During the barely 8-week summer break, you have obligatory summer practices at the hospital or doctor's office. These practices last from 2-4 weeks and are obligatory every year, eating up the already short vacation time.
Oh, and one more thing. There's no summer break between 5th and 6th year. The 6th year begins immediately after the 5th year exam period.
Note that, because of how the exam period works, one can schedule all their exams in the beginning of the exam period and, if they pass them all on the first attempt, have the rest of the exam period off. However, because you never know beforehand whether you'll pass all your exams on the first try (or at all), you can't safely make any plans for vacation during the exam period. How much of the exam period a student requires to complete their exams varies wildly between students and from year to year; a few complete all their exams in the first 2-3 weeks, while many need 5-7 weeks.
Ridiculously high fail rate and retake rate
It's well known among students at POTE that there's a ridiculously high exam fail rate and retake rate, and many are expelled because they fail exams too many times.
As an example, in my graduating year, out of approximately 105 students, approximately 28 of them had the brand-new blood transfusion course in 6th year. Only those who'd never had to repeat a year had this course, and so approximately 70% of the class of 2022 have repeated one year or more (me included). That's a ridiculously high failure rate. Some had repeated more than three years. And this number doesn't even take into consideration those who are expelled, which happens to many. I've had many (very capable) friends been expelled from the university, many of which have transferred to other universities where they've never had any problems.
As another example, last fall semester there were approximately 217 students in 2nd year. This fall semester (at the time of writing), there are only approximately 127 students. This means that approximately 90 (41%) students who were second year last year couldn't complete all their second-year exams and progress to third year, and instead had to repeat second year.
The university added a new subject last minute without warning us, breaching their own contract
Speaking of the blood transfusion subject, there was a big controversy about this on my 6th year. Each student follows the curriculum which was set in stone the year they were admitted. As a student admitted in 2015, I was following the 2015 curriculum. Year to year, the curriculum may change slightly, mostly by making the rules even stricter for more recent students. I followed the 2015 curriculum even though I graduated in 2022 because I repeated a year. Those in my 6th year who hadn't had to repeat a year were admitted in 2016 and so followed the 2016 curriculum, which had no significant changes. Legally, these curricula cannot be changed after admission; if the university wants to make changes to the curriculum, these changes can, according to the university's own rules, only be applied to the new curricula thereafter. That is, until the university decided to break its own rules in the spring of 2021.
6th year consists only of hospital practices at different departments, and POTE allows for these practices to be taken at accredited hospital abroad, giving the opportunity to have these practices in your home country if you're lucky. This involves emailing and calling around to hospitals in your home country to organise these practices. Especially in Norway, where I'm from, getting permission from hospitals in Norway to have practices is difficult because so many Norwegian medical students studying abroad need these practices. It requires a lot of difficult planning a long time ahead, often a year in advance.
In the very end of my 5th year, in the spring of 2021, the university announced that we will have another subject in our 6th year; another course in blood transfusion (we'd already had a blood transfusion course in 4th year btw). This was outrageous for two reasons. First, this means that the rules in the contract we had signed upon admission were broken, as the university had changed the curriculum mid-studies. Second, because this course would take place in person in Pécs during, and because we had already planned abroad hospital practices at the time the course would be held, many would have to cancel their abroad practices they'd planned a year in advance.
Eventually, for unknown reasons, the extra blood transfusion course would only need to be taken by those following the 2016 curriculum, ironically "punishing" those students who'd never repeated a year by messing with their plans and making them take an unnecessary course, while those of us who were admitted in 2015 or earlier were exempted. Oh, and the course? Those who took it said it was useless.
Rumours say that this extra course was made obligatory in all medical universities in Hungary because some recent graduate made a mistake with a blood transfusion. I can assure you that forcing students to sit through a terribly designed course on blood transfusion would not prevent such unwanted events in the future (proper protocol and procedure in the hospitals would).
The clinical skillbook – a huge amount of unnecessary paperwork for students and teachers alike
The "Grade Book of Clinical Skills", colloquially called the "skillbook", is a booklet of clinical skills students at POTE must perform themselves or see be performed during their studies. After each "skill" has been completed, one must receive a signature and stamp from the teacher present for each skill. It is widely hated among students and teachers alike, for reasons I'll explain.
The major issue with the book is that the clinical practices we have at the university are so bad and provide us with so little actual practice that no student who has ever graduated from POTE have ever actually performed all the necessary skills. Many of the required skills are skills you'd reasonably expect a medical graduate to master or at least have tried (except some ridiculous ones, like perform endotracheal intubation on an adult five times). If we'd actually learned the skills we're supposed to learn according to the skillbook, I'd actually have been pretty satisfied with the practical part of the education. Unfortunately, in reality we learn only a fraction of these skills. Instead, our teachers sign off on our skills even though we've never actually performed or learned them. They do this because they know that if they didn't, we wouldn't be allowed to graduate.
The teachers hate the skillbook because, for each teacher responsible for a 24-person group, there are 24 skillbooks, each with dozens of signatures and stamps to fill out, which makes for many hours of work per teacher per semester, which they don't have time for. The students hate the skillbook because it's our responsibility to get every single signature, which is a huge hassle because sometimes teachers don't have time or refuse to fill out signatures, and so we have to find others to sign them.
The last page of the skillbook makes us sign that we're aware of the "legal liability" of providing untrue entries. Without the book completely filled out, one cannot graduate, but the university gives the student the legal responsibility to acquire the necessary skills.
I don't know why it's necessary for the students to keep a legal document detailing our learned skills at the university. It's not like we have any control over what we're being taught in our practices. The university exists to teach us theory and practical skills. If they actually taught us the skills in the skillbook there would be no need for it; instead, they sign off the legal responsibility onto the students, as if it's our responsibility to acquire these skills when we have no control over the practices we have.
Here's the link to the skillbook: https://aok.pte.hu/docs/th/file/2018-2019/Angol_KKL_egyben.pdf
High tuition fee
POTE, and medical universities in Hungary in general, is more expensive than other similar universities in other Eastern European countries. The tuition fee increases for new students almost every year; for students admitted in 2022, the fee is 16750 USD yearly. For example, the tuition fee at the Jagellonian university in Krakow, Poland, a university that ranks much higher than POTE in international rankings (and whose graduates I've talked to have been happy with their university) is 15000 EUR yearly, equivalent to 15200 USD at the time of writing. Also consider that in Pécs, most students repeat one or more years, each repeating year also costing tuition fee (although a reduced one as one usually only has a few subjects in the repeating year).
The last written exam (the "written state exam") tests your ability to memorise and not to practice medicine
After having completed every single exam at POTE, you must pass a national "state exam" in general medicine. The state exam has one written and one oral part. The written state exam is a multiple-choice exam held at the same date and time for all medical universities in Hungary.
The interesting part is this: all the questions and answers are given to us beforehand. This is not cheating; they're uploaded to the state exam webpage for anyone to view. There are some thousand questions on the webpage, and at the exam, 180 of these are semi-randomly drawn. The quality of the questions aside (poor English, based on outdated and sometimes outright wrong knowledge, lack of relevance to medical practice), the fact that the questions are given beforehand makes it possible for anyone to pass the exam without proving any knowledge in the field of medicine. In theory, someone who'd never studied medicine could pass the exam, given enough time to memorise. The questions are relatively easy to memorise as well, as most of them are so unique that you can recognise the first few words of the question stem and connect it to the correct answer key in seconds.
It's a joke. I'm not for difficult exams which people can fail, but there's no point in an exam if it doesn't test your knowledge, just your ability to memorise a question bank.
Important information isn't communicated to us
The best example of this is the fact that we almost never receive information as to where to meet up for new subjects when a new semester begins. The most reliable way to find out where class takes place is to ask older students, but sometimes the place changes without warning. This doesn't prevent teachers from being upset that we're late or absent because we can't find the class.
Electives and optionals have zero value
As already stated, during the studies at POTE one must complete a certain number of elective and optional subjects. In theory, elective subjects are more closely related to medical practice while optionals are less so, but in practice, one can draw little useful knowledge from any of them. They are massive chores, and the classes often take place in the evening (after 16:00) to not collide with compulsory classes. I've had many electives and optionals that've lasted until 19:30.
Terrible handling of COVID
The university handled the beginning of the COVID-19 pandemic terribly. The leadership often refused to make important decisions, leaving the matter of deciding important matters such as whether classes should be online or in person up to the course directors for each subject. The decisions would also change mid-semester.
For my class, this led to a semester (spring semester of 2021) where, before the semester started, all subjects had stated that classes will be online in the beginning, so most students stayed in their home countries for the time being, but as soon as the semester started, one subject (ob/gyn) did a spontaneous 180 and required in person attendance in their seminars. Arranging flights from our home countries to Hungary at the time of the height of the pandemic was difficult and couldn't be arranged in a short time, especially not without blows to our economy. When we eventually did show up to these seminars, we realised there was no reason for them to require attendance, as they were just slideshow presentations in a classroom in which we had to maintain distance. Eventually, almost all classes ended up being online anyway, so most of the time we were sitting in our apartments in Hungary without the option of travelling to our home countries to be safer.
That was the time when the first vaccines were rolling out and administered to healthcare personnel. The university offered vaccines to students, but only for a limited time (something they failed to communicate well). By the time most of us had returned to Hungary, this limited time was over, with only a minority of students having gotten the vaccine. The majority of students had to wait until June 2021 to get another opportunity to get vaccines from the university.
That semester ended up being mostly online, but when exam period was closing in, the leadership announced that all exams had to be in person. This was to reduce cheating, which was apparently a big problem the exam period before, when all exams were online. Feeling that the university would rather risk our safety (recall that most students were as of yet unvaccinated) than change their exam forms to be more robust against cheating (many other universities had online exams, after all), the students were pissed. Was the risk so high that we couldn't have in person classes, but not high enough that they couldn't have online exams? We made a petition to have online exams, a petition which took a huge amount of work and which the majority of students at the university signed by name, but the leadership did not care about our worries and ordered in person exams anyway.
As already stated, the university does not (and never did) provide extra absences from class in case of COVID-19 infection, even though it mandated students to stay home in case of positive test results. This created a conflict of interest, because too many absences could mean a student had to repeat the year, and unfortunately some students had to attend class despite knowingly having COVID to prevent this.
During the height of the pandemic, rules and regulations regarding mask mandates and quarantine changed often. The information was updated on state-run websites, but only in Hungarian (or the English versions were outdated). The university attempted to maintain an English version of the current regulations for international students, but these could never keep up with the actual changes and were therefore often outdated and wrong too.
On a related note, many other European universities made a quick and early decision to have online classes and stayed with the decision. I heard from a friend at the medical university in Martin, Slovakia that their university allowed students to vote on whether they felt safe enough to have in person classes. When the majority voted no, the university listened to the students and ordered all classes to be exclusively online.
Sexist and racist teachers and examiners
Many teachers/examiners are openly sexist or racist, openly treating certain genders or ethnicities better than others, as well as giving sexist/racist comments, even on exams.
Anecdotes
I've met many people (mostly Norwegians) who've studied at other similar universities, like Krakow, Martin, and Riga. I always ask them whether they were satisfied with their university and would recommend it to a friend, to which almost all reply "yes". When asking my fellow students/graduates at POTE the same question, almost all answer a hard "no".
I've talked to students who've studied in countries like Slovakia and Poland, and there having to repeat years is very rare.
I know many people who have studied at POTE but since transferred to other universities, either because they were expelled from POTE or because they weren't satisfied with it. All of those I've talked to have been much more satisfied with the universities they've transferred to (Kosice, Krakow, Sofia).
It has happened many times when introducing myself to new people and saying that I studied in Pécs that the other person says "oh, I heard it's really hard there". POTE has a reputation of being hard which has reached far and wide.
Is there anything good about it?
I can think of a couple of things.
Due to aggressive marketing to multiple parts of the world, the community of international students consists of students from a variety of different countries, allowing you to meet students from countries you might not otherwise have met. I've gotten to know many wonderful people through the university.
If you're from a country whose hospitals are accredited by the university, having the opportunity to have hospital practices in your home country (where you'll likely be practicing) is valuable.
The new cafeteria in the new university building is really good.
Possible rebuttals and responses to my post
"But you were a medical student during COVID, you experienced lower quality of education because of that and so your experience isn't indicative of future students' experiences"

COVID-19 didn't exist during the first 4,5 years of my university time, and it was mostly a non-issue during the last year. Even if the presence of the pandemic invalidated my experiences during this time, I'd still have plenty of pre- and post-pandemic experience to have opinions.

"But my medical university also has these issues we don't complain"

All universities have their own issues, but I doubt many have the same number and severity of issues as POTE. If your university truly has all the same issues, then you should be complaining as well. Not complaining about an unnecessarily unfair situation is not a good thing.

"I also studied at POTE and it wasn't as bad as you say"

Many of my listed problems are subjective and may reasonably be disagreed with, but many of them are objective. You can't argue with the fact that most students must repeat a year, for example, but if that's "not bad" in your mind (when it's not an issue with other universities), then you can keep your opinion. But please consider that just because something wasn't an issue to you doesn't mean it's not an issue for most others

"If you study hard enough these are not issues" / "These are only issues if you're dumb or study wrong"

Even those fellow students who are extremely talented and good at studying and never have problems passing exams, have experienced unfair situations and expressed frustration at classes. It's not limited to "low-" and "mid-range" students such as myself.

"You seem to expect studying medicine to be easy"

Then you have the wrong impression. Studying medicine will never be easy at any university because of the size and rapid development of the field. My issues are with studies which are unfair and unnecessarily difficult.

"But at POTE one learns a lot of theory which makes for a really good foundation"

Being taught something does not equal learning something. I've been taught countless theoretical details during my years at POTE, but I've learned almost none of them, especially not to the level that I retained that theory more than a few days after the exam was finished. From my (admittedly yet short) experience as a doctor, the extensive theory I learned hasn't been particularly useful

"You're just bitter because you had to repeat a year"

As a repeater, I'm part of the majority. Thankfully, there's no stigma against repeaters at the university. So no, I'm not bitter for that.

If you hated it so much, why didn't you transfer?"

One cannot transfer after fourth year has started (one must spend the last three years of uni at the same university, I've heard), which limits your options. The sunken cost fallacy also plays a huge role here. That being said, I did try to transfer at multiple occasions, but couldn't for various reasons.

"You're just bitter because you couldn't get into medical school in your home country" / "That's what you deserve for not working hard enough in high school to be accepted into medical school in your home country"