Page created on March 5, 2018. Last updated on June 30, 2020 at 13:56
Learning objectives
What is the structure of complex lipids?
What is the function of complex lipids?
What are phospholipids?
What are sphingolipids?
What are the four steps of complex lipid synthesis?
What is the function of phospholipases?
What is arachidonic acid, and what is its significance?
General
Storage lipids (triacylglycerols) are comprised of a glycerol backbone and three fatty acids which are bound to the glycerol by ester bindings.
Complex lipids are lipids which contain not only fatty acids, but other groups as well. They have a hydrophilic "head" and two hydrophobic fatty acid "tails".
Their backbone can be glycerol or sphingosine. Complex lipids with glycerol backbones are called glycerophospholipids, while those with sphingosine backbones are called sphingolipids. Glycerophospholipids and sphingolipids can have many different attached groups, like alcohol, sugars, choline, etc.
Phospholipids are complex lipids in which the hydrophilic head is comprised of phosphate and a special group, like choline, serine, inositol, or ethanolamine. The backbone can be glycerol or sphingosine. Many phospholipids are important, like phosphatidylcholine, phosphatidylserine, phosphatidylinositol, and phosphatidylethanolamine. Phospholipids are major building blocks of cell membranes.
Sphingolipids are complex lipids whose backbone is sphingosine instead of glycerol. The hydrophilic head is comprised of a special group with or without phosphate. Like phospholipids, sphingolipids are components of cell membranes, more specifically the outer leaflet.
Complex lipids are important in cell signalling, as we will see below.
Synthesis of complex lipids
Synthesis of complex lipids occurs on the surfaces of the smooth ER and the inner mitochondrial membrane. Synthesis follows these steps:
Synthesis of the backbone (glycerol or sphingosine)
Attachment of fatty acids to the backbone by ester binding
Addition of hydrophilic head group
Alteration or exchange of the head group to yield the final product
Glycerol 3-phosphate is an important precursor in glycerophospholipid synthesis. It can be synthesized by attaching a phosphate group to a glycerol (by glycerol kinase, only in liver), or by reduction of dihydroxyacetonephosphate, a glycolytic intermediate (by glycerol-3-phosphate dehydrogenase).
Fatty acids can be attached to the first and second carbon of glycerol 3-phosphate, to yield a so-called phosphatidic acid. Attachment of serine, choline, ethanolamine, etc. to the phosphate head forms the final glycerophospholipid.
The phosphatidic acid can also have its phosphate head removed by phosphatidic acid phosphatase, which yields a 1,2-diacylglycerol. Attachment of a third fatty acid to where the phosphate head used to be forms a triacylglycerol. This shows that triacylglycerol synthesis and complex lipid synthesis shares quite a few steps.
Complex lipids in cell signalling
Complex lipids are found in the cell membrane, where they're abundant. Some of the complex lipids of the cell membrane are comprised of molecules which act as second messengers in cell signalling. When the cell gets a signal, enzymes can cleave off these second messengers from the rest of the complex lipid. These second messengers will then go on to transmit the signal inside the cell.
Phospholipids are broken down by phospholipases, of which there are four types; phospholipase A1, A2, C, and D. The different phospholipases cleave the phospholipids at different sites, as seen below. Depending on where the phospholipid is split, different parts are released.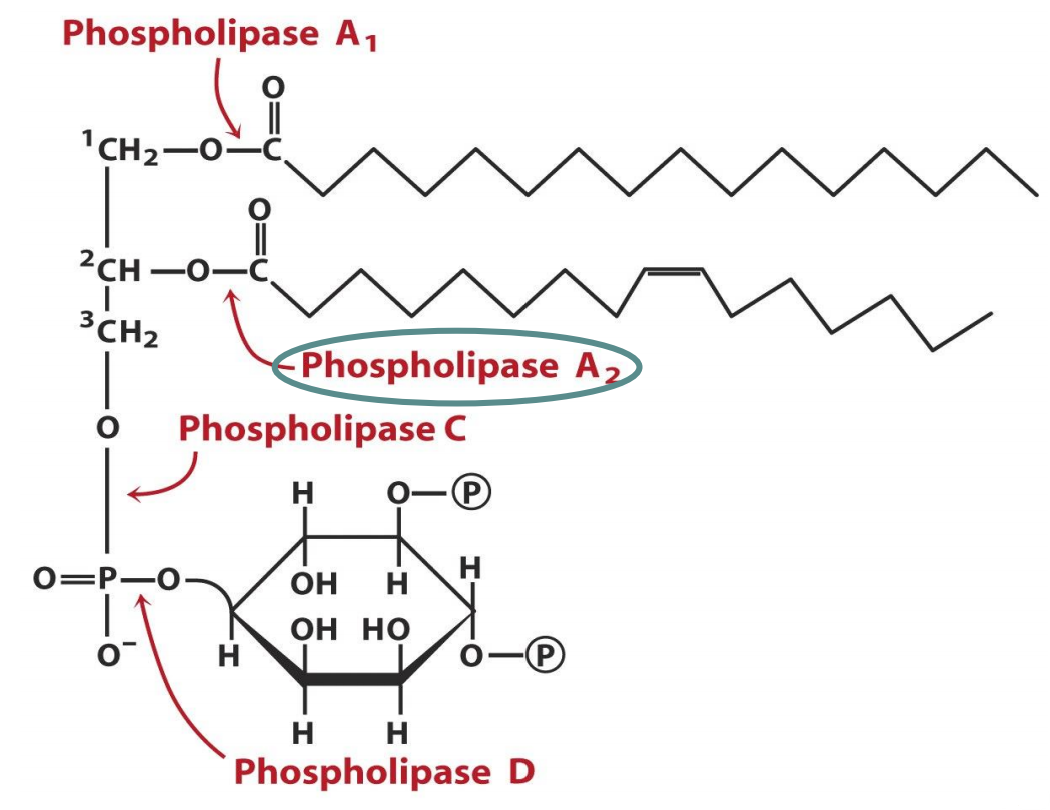 The most important phospholipases are A2 and C. Phospholipase A2 is important in arachidonic acid metabolism, while phospholipase C is important in in the IP3/DAG/PKC pathway. The latter is explained in later topics.
Arachidonic acid metabolism
Arachidonic acid (arachidonate) is a 20 carbon long polyunsaturated fatty acid. It has four double bonds. Arachidonic acid is very important, and you'll hear about it throughout third and fourth year, because it is the precursor for prostaglandins, thromboxanes, and leukotrienes, which are very important groups of molecules in inflammation and disease.
Arachidonic acid has double bounds beyond the 10th carbon, so it cannot be synthesised from palmitate in humans. However, plants can put double bonds anywhere they want. Humans can synthesise arachidonic acid from linoleate, an 18 carbon long polyunsaturated fatty acid with two double bonds. Linoleate is synthesised in plants and is one of the essential fatty acids, because the animal body requires it as a substrate for arachidonic acid synthesis.
Both linoleate and arachidonic acid are omega-6 acids, referring to the fact that they have a double bond at the 6th carbon from the end.
Cells "store" arachidonic acid as one of the fatty acids of the complex lipids which make up their cell membrane. When the cell gets a particular signal, phospholipase A2 is activated, which cleaves the arachidonic acid from the phospholipid. The rest of the pathway is described in later topics.
Summary
What is the structure of complex lipids?

Complex lipids have a hydrophilic head and two hydrophobic tails

What is the function of complex lipids?

Complex lipids are components of cell membranes
They also store second messengers to be used in cell signalling

What are phospholipids?

Phospholipids are complex lipids whose head group contain phosphate

What are sphingolipids?

Sphingolipids are complex lipid whose backbone is sphingosine

What are the four steps of complex lipid synthesis?

Synthesis of the backbone (glycerol or sphingosine)
Attachment of fatty acids to the backbone by ester binding
Addition of hydrophilic head group
Alteration or exchange of the head group to yield the final product

What is the function of phospholipases?

Phospholipases cleave phospholipids at different sites
Different phospholipids release different second messengers from complex lipids

What is arachidonic acid, and what is its significance?

Arachidonic is a 20 carbon long polyunsaturated fatty acid
It's a precursor for prostaglandins, thromboxanes, and leukotrienes