Page created on September 29, 2021. Not updated since.
Hepatocellular carcinoma
Introduction
For introduction and etiology, see the corresponding pathology 2 topic.
Clinical features
The tumour itself is usually asymptomatic, but the patient usually has symptoms from the underlying disease (cirrhosis or hepatitis). Constitutional cancer symptoms like weight loss, weakness, abdominal pain may be present but may also be caused by the underlying disease.
At later stages, ascites, jaundice, and hepatic failure may develop.
Diagnosis and evaluation
Patients at high risk for HCC (cirrhosis of any cause, chronic hep B) should be screened regularly for HCC. Screening involves measuring abdominal ultrasound and AFP levels. Focal lesions in a cirrhotic liver are primary liver cancer until proven otherwise. AFP is elevated only in 50% of cases, in which case the level correlates with the tumour size.
Contrast CT or MR confirms the diagnosis and shows extrahepatic spread. Typical features on imaging include early contrast uptake, "washout", and vascular spread.
Liver biopsy is often not needed as the definitive diagnosis can be made with imaging, and biopsy carries a risk of bleeding and tumour spread.
Staging
The Barcelona Clinic Liver Cancer (BCLC) staging is the most frequently used staging system, and at least the one preferred in POTE. The Child-Pugh score and ECOG are important in determining the BCLC stage.
The Child-Pugh score involves multiple parameters that reflect liver function (bilirubin, albumin, PTT, INR, etc.) and classifies the function as Child-Pugh A, B, or C, where A is good liver function and C is poor liver function.
The BCLC staging determines which stage the disease is in, based on the TNM staging, ECOG, and Child-Pugh score:
Very early stage (stage 0)
Early stage (stage A)
Intermediate stage (stage B)
Advanced stage (stage C)
Terminal stage (stage D)
Notably, a Child-Pugh C is BCLC terminal stage regardless of the TNM and ECOG features.
The so-called Milan criteria are used to evaluate whether the patient is a candidate for liver transplant or not. The Milan criteria are fulfilled if there is either a single tumour not > 5 cm, or up to 3 tumours, none of which are > 3 cm. There must also be no vascular invasion or extrahepatic spread.
Treatment
There are many treatment options for HCC:
Resection (preferably laparoscopically)

Anatomical resection (respecting segmental and lobar anatomy)

Segmentectomy (or bisegmentectomy or trisegmentectomy)
Hemihepatectomy
Sectionectomy

Atypical resection

Liver transplantation
Local ablation

Radiofrequency or microwave ablation
Percutaneous ethanol injection

Oncotherapy

TACE (transarterial chemo-embolisation)
Targeted drug therapy (sorafenib)
The treatment choice depends on the BCLC stage: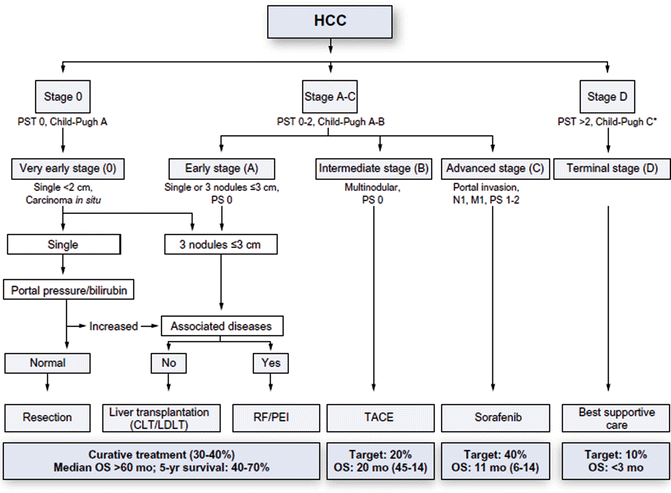 From https://abdominalkey.com/liver-transplantation-for-hcc-the-milan-criteria/
Generally, only BCLC stages 0 and A are curable. Curative modalities include surgical resection, liver transplantation, as well as local ablative techniques. Liver transplantation is only considered if the Milan criteria are fulfilled.
Prognosis
Due to the long asymptomatic period, most cases are irresectable at presentation. This gives it a poor prognosis, with a 5-year survival of 30 – 50%.
Other primary liver malignancies
Intrahepatic cholangiocarcinoma
Intrahepatic CCC is a rare and aggressive liver cancer. It may also develop on the basis of cirrhosis. It spreads along the bile ducts. Treatment is surgical.
Angiosarcoma
Hepatic angiosarcoma is very rare and aggressive. It's notably associated with exposure to certain toxins, vinyl chloride and thorium dioxide. Vinyl chloride was formerly used in the plastic industry. Thorium dioxide was a radiocontrast material formerly used.
Hepatoblastoma
Hepatoblastoma is a rare childhood tumor that originates in liver precursor tissue, but it's the most common primary liver tumour in children (0 – 3 years). It usually presents as an abdominal mass.
Secondary liver malignancy
Liver metastasectomy may be used for multiple types of secondary liver cancers, most commonly CRC. Patients with primary colorectal cancer with liver metastasis may undergo metastasectomy with curative intent.
Metastasectomy or debulking may also be used in neuroendocrine, breast, gynaecological, or other secondary liver cancers.
Previous page:
B39. Benign tumors and cysts of the liver
Next page:
B41. Diseases of the chest wall. Tumors of the mediastinum.
Parent page:
Surgery – Traumatology